Area Attractions and Nearby Destinations
"The Town so Healthy We Had to Shoot a Man to Start a Cemetery"
Van Horn was named after a Union Officer, while Culberson County was named after a Confederate.
The above slogan had been suggested by a local rancher named Bill Goynes. He was killed by his brother-in-law a short time later and in fact became the first occupant of the cemetery. We are told it was a dispute over water and had nothing to do with the need to start a cemetery, although it might've given the community-minded brother-in-law an extra incentive.
Parks & Recreation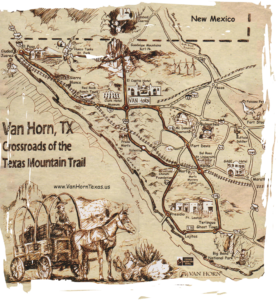 The Texas Mountain Trail
Travel the majestic landscape of Far West Texas with the Texas Mountain Trail as your guide. At www.texasmountaintrail.com you can learn about the history, culture, and natural history of Far West Texas. The Texas Mountain Trail is part of a state-wide network of heritage travel organizations funded by regional partners and the Texas Historical Commission. National and state parks, historic sites, hiking, biking, and natural history tours await you for discovery. Visit one of our last and finest frontiers, experience our western traditions, explore the best of Texas from Van Horn—Crossroads of the Texas Mountain Trail.
Mountain View Municipal Golf Course
Mountain View Golf Course is a challenging 9-hole, regulation course, located in the beautiful wide-open spaces in Van Horn, Texas. From the longest tees, Mountain View features 3024 yards of picturesque golf for a par 36. Mountain View is a municipal course, 4047 feet above sea level. Temperatures range from 40 degrees in January to 85 degrees in June, for comfortable, year-round play. Stay and play surrounded by breath-taking mountain and desert views, indigenous wildlife, and Texas-size, wide-open spaces.
>>More info
Okey D. Lucas Municipal Park
Clark Community Park (under construction)
Van Horn City County Park
Van Horn City Swimming Pool – 200 Austin St, Van Horn, TX 79855
Clark Heights Park
Veterans Memorial Park & Softball Field
Little League Field
Boys and Girls Clubs of Rural West Texas
Culberson County Historical Museum
The Clark Hotel, which now houses the Culberson County Historical Museum started out as The Cox Building. In 1901 it was an office building that had a pool hall/saloon added on in 1905 and even served as a courthouse before an official one could be built.
Nearby… 
Alpine – 100 miles SE
West Texas is majestic. And Alpine is right in the middle of everything, packed with events and places to see, and a perfect staging ground for a Big Bend adventure.
Balmorhea State Park – 61 Miles East on HWY 10
Dive into the crystal-clear water of the world's largest spring-fed swimming pool. Swim, scuba dive, or just relax under the trees at this historic park in arid West Texas.
Carlsbad Caverns – National Park 110 Miles North (35 miles NE of the NM border)
High ancient sea ledges, deep rocky canyons, flowering cactus and desert wildlife – treasures above the ground in the Chihuahuan Desert. Hidden beneath the surface are more than 119 known caves – all formed when sulfuric acid dissolved the surrounding limestone leaving behind caverns of all sizes.
Fort Davis and Davis Mountains State Park – 80 Miles SE on HWY 90
Fort Davis is one of the best surviving examples of an Indian Wars' frontier military post in the Southwest. From 1854 to 1891, Fort Davis was strategically located to protect emigrants, mail coaches, and freight wagons on the Trans-Pecos portion of the San Antonio-El Paso Road and on the Chihuahua Trail.
The Guadalupe Mountains National Park – 55 Miles North on Hwy 54
The park contains Guadalupe Peak, the highest elevation in Texas (8749 ft.) Guadalupe Mountains National Park is the world's premier example of a fossil reef from the Permian Era.  The park is known for its extensive hiking and backpacking opportunities in one of the nation's most pristine wilderness areas.  Birding, history, and many other opportunities to learn and have fun await visitors in this hidden gem of West Texas.
Hueco Tanks State Park – 135 Miles East of El Paso
For thousands of years, people have trekked to these rock hills in far west Texas. In earlier times, they came for the rainwater pooled in natural rock basins, or huecos ("whey-coes"). Visitors today marvel at the imagery left by those ancient people. At Hueco Tanks, you can hike, rock climb, bird watch, study nature and history, picnic and stargaze. Visitors can take guided and self-guided tours to view rock imagery. Stop by our interpretive center, in a historic ranch house, to learn about the park and its history. The park store at headquarters sells gifts and other items.
Lobo – A Ghost Town 12 Miles South on US 90
Mostly abandoned in the late 1960's, the town has few residents today. In the 1880's, the Southern Pacific Railroad drilled a water well in the area that turned Lobo into a steam engine water stop, depot, and livestock loading pen. Early in the 1990's, land promoters brought farmers to the area and started drilling water wells to irrigate agricultural crops. A small agricultural boom occurred around the time of World War I and also during the years following World War II. Cotton farming was the principle crop, but the cost of irrigating exceeded the income and Lobo began a rapid decline. Today, more houses are abandoned than are occupied.
Marfa – Artsy town 73 Miles SE on US 90
Whether you aim to remember history or forget it, live at large or only get away for the weekend, write your novel or just find a great place to read one.
West of the Pecos Museum – 88 Miles NE in Pecos, TX
As The West of the Pecos Museum is known today: Three full floors with over 50 rooms of exhibits collectively, artifacts, history, and West Texas lore as well as the outdoor exhibits. All are available to the public at a self-paced walking tour or with a Guided Tour. Don't forget to bring your camera!
The Van Horn Convention and Visitor's Bureau – (915) 283-2682.
Sources:
TexasEscapees.com
Texas State Historical Association
VanHornTexas.us